Consider Used Prefabricated Buildings When Time and Money Are in Short Supply
If you urgently need additional space to accommodate your employees, students or congregation, and your budget won't permit you to consider new construction, whether modular or stick-built, don't overlook used prefabricated buildings which are available for immediate delivery from Modular Genius. Although new modular buildings take up to 90 days to manufacture, pre-owned buildings are readily available for immediate delivery.
There are an infinite number of uses for pre-owned modular buildings. They are ideal for classroom swing space, temporary call centers, sales rooms, mobile construction offices, daycare centers, health clinics, and many other uses. You may need them temporarily when a building renovation displaces your employees. Utilizing used modular buildings is also eco-friendly.
Most modular builders can offer you significant savings on used prefab buildings that are in great condition. You will find them in all sizes, from under 1,000 S.F. to over 20,000 S.F., and may be able to have them modified to suit your requirements, such as with different roofing materials or upgraded wall and floor finishes. They can be customized to meet your needs and painted or sided to coordinate with neighboring structures.
Modular Genius is an award-winning industry leader specializing in complete turnkey solutions for everything from used prefab buildings to unique custom modular buildings for virtually any public or private industry or use.  To make certain the pre-owned buildings they offer for sale or lease are in the best possible condition, they perform a rigorous inspection, checking for weather tightness, structural integrity, mechanical HVAC operation, and electrical and plumbing compliance.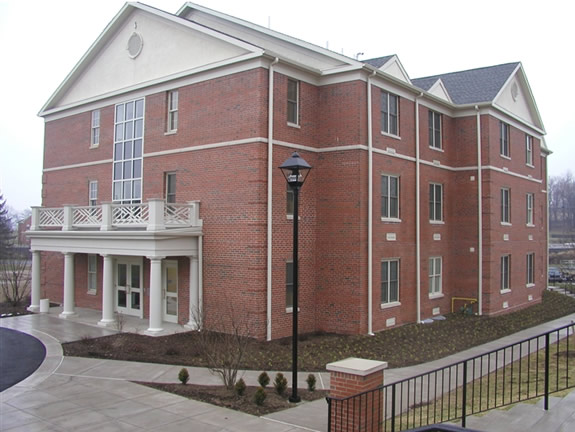 Many people who see the image above cannot believe it is a prefabricated modular building. But it is. This was one done by Modular Genius – headquartered out of Joppa – near Baltimore, Maryland.
If you are considering buying a pre-owned modular building, it's important to:
Weigh the cost of used modules against that of new modular buildings. While you can often save 10% to 40%, the cost of a new modular building may not be substantially more and would allow you to get exactly what you want with a better warranty. Is set-up included in the price or will you pay extra for it.
Check the condition. If the modular buildings were maintained properly, they should be able to continue serving your needs for a long time. Find out if the modules you are interested in will need repainting, repairs or renovations of any kind so you can factor in the additional expense. If repairs have already been done, find out if the seller will provide a warranty
Prepare the delivery site. Do you already have a prepared foundation for your modular building? Many modular manufacturers can take care of this for you so that your site is ready for delivery. Also, some pre-owned structures require conditional use permits, so call the building department of your city or town to find out. City building codes have requirements for safety and other factors depending on the intended use of the building.
Modular Genius has the knowledge and skills to meet every type of deadline and budget challenge. They offer a wide selection of permanent and portable, new and used modular buildings, and can assist you with adding space, functionality or with getting you back in business quickly after a fire or natural disaster. With manufacturing facilities throughout the United States, it's likely that they have used prefabricated buildings available very close to your location. Give them a call at (888) 420-1113 to discuss your space requirements, and save money without sacrificing quality or design.