Prefabricated Daycare Buildings for Healthy Kids
According to the experts, children between infancy and school age spend up to 12,500 hours in child care facilities. Consequently, in addition to a functional child care center, it's important to design a space that will be a healthy environment and one that encourages a child's creativity and development. This takes a substantial amount of planning, and the construction costs can be prohibitively expensive for many small business owners. High-quality prefabricated daycare buildings may be the sensible answer.
With modular buildings, you can save an average of 20% of the cost of traditional construction. Those dollars could be better used for well-built, durable furniture, tools and supplies to create a stimulating learning environment. By purchasing prefab modules, you can also get your daycare facility up and running in 90 days or less, or at least 50% faster than a traditional building project.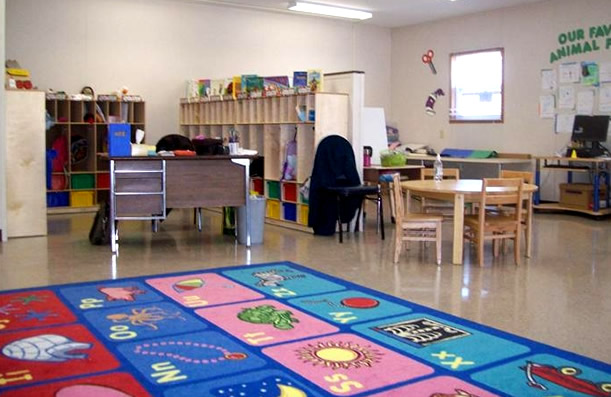 Planning Your Modular Child Care Center
Check building codes.
Many cities have specific daycare building requirements. You may be restricted to a maximum number of children per square foot of building. You may need more than one bathroom, fire escapes, handicapped parking, and other requirements. Prefab buildings meet (or exceed) the same state and local building codes and are subject to the same stringent inspections as conventionally built structures, but it's important to know exactly what you need before you begin the design stage.
Identify your space requirements.
Modular daycare facilities can be designed in every imaginable configuration, from as little as 750 square feet to 15,000 square feet or more. You may need a reception area, a spacious interior classroom area without support columns or multiple classrooms, activity rooms, storage rooms, closets, cubbies, a bathroom or two, a kitchen and office space for teachers and staff. How do you want people to move from one space to the next? Will doors open in or out? Providing ample space in the classrooms allows you to create more and better activity areas for children. Lighting can also have a significant impact on the atmosphere, so you may want to maximize the number of windows and natural light. It may also help to pay a visit to other child care centers to get design ideas.
Consider changing business needs.
You may have a waiting list of children because your space is filled to capacity. Or maybe you are located in a growing community and can see that new housing construction and the opening of new businesses will increase the demand for your daycare services. Adding more students requires more classroom space as well as more space to store equipment and supplies. Prefabricated daycare buildings and classrooms are flexible enough to accommodate your changing needs. Modules can be added as you need them, and they can be relocated if necessary, something that is obviously not possible with traditional stick-built structures. Modular construction allows you to add space as you grow. You can also finish the prefab building's exterior with brick, stucco, siding or other architectural surfaces that will blend with other structures on the property.
Create a healthier daycare facility.
Unlike conventional construction, designing a modular childcare center to be green does not increase its cost. Modular units are often built with recycled steel, making them strong, fire-resistant and mold-resistant, and they are LEED-certified. Choosing energy-efficient utilities, eco-friendly insulation, and wall and floor treatments that don't emit toxic chemicals are easy, cost-effective decisions that can help you create a healthier environment for children and teachers.
The modular building manufacturer you select will have standard floor plans available and can customize plans just for your business. One such manufacturer is Modular Genius, headquartered in Joppa, MD. Their design team can help you clarify your goals, translate them into square feet, and help you design the most appropriate prefabricated daycare buildings for your unique needs.