Smarter Building with Green Modular Buildings
Buildings in the United States have a huge impact on the environment. According to the EPA, they are responsible for 39% of total energy use, 12% of total water consumption, 68% of total electricity consumption, and 38% of CO2 emissions. By 2025, they will be the largest emitters of greenhouse gases on the planet. Green modular buildings provide an excellent alternative, promote sustainability, and offer a number of beneficial incentives.
Smarter building strategies will not only help your business earn points toward Leadership in Energy & Environmental Design (LEED) certification, but will reduce your energy costs by as much as 10% to 40% and may enable you to take advantage of incentives that are unavailable to builders of traditional "stick-built" structures. And all of this can all be accomplished without sacrificing high quality and beautiful designs.
Modular building construction is fast, flexible, budget-friendly and efficient. State-of-the-art manufacturing technologies, mechanized quality control and the integration of 3D and 4D design capabilities have made modular construction suitable for a wide range of residential, commercial and industrial uses, both temporary and permanent. A visit to the website of a modular building company, such as Modular Genius in Joppa, MD, will illustrate how much progress has been made in the industry.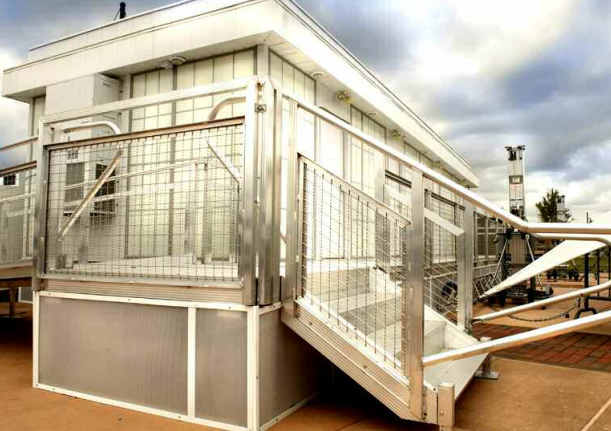 The green benefits of modular buildings include:
Use of recycled steel and sustainably sourced timber
Accurate measurements that minimize waste on the front end
Factory production for greater accountability of materials
Minimal building site disturbance
Reduced emission of greenhouse gasses during construction
No cost overruns due to poor weather and scheduling delays
Shorter construction schedule provides a faster return on investment
Better use of natural light through glass walls and open designs
Improved indoor air quality controls
Better sealing to reduce heating and cooling costs
Efficient automatic sensors for lights and heating systems
No-VOC/ low-VOC wall and floor coverings with fewer ozone-depleting toxins
Improved fire and mold resistance
Ability to deconstruct and move structures for reuse or recycling
In addition to these cost and environment-saving benefits, many municipalities offer tax and marketing incentives for building green. Builders and developers who commit to green building standards may be able to take advantage of expedited permitting processes which may take as long as 18 months for conventional buildings.
Financial incentives for green modular construction may take the form of tax credits, fee reductions or waivers, grants, and even low interest loans. Some municipalities offer free green planning assistance and others offer free signage and marketing incentives for LEED-certified projects.
Today, single and multi-story modular structures can be designed for any conceivable purpose. They are ideal for office buildings, customer service centers, banks, worship facilities, medical clinics and labs, classrooms, and complete school campuses, to name a few.  With customized brick, stucco and other exterior finishes that blend in with surrounding buildings, it is difficult to distinguish them from conventionally built structures.
Modular construction reduces design and construction costs by 20% to 40% and shortens the construction timeline by at least 40%. As sustainability standards grow and energy costs rise, consider the additional economic advantages of green buildings. Green modular buildings are certain to be a major force in sustainable building construction for the foreseeable future.