Have you seen what can be done with modular construction these days? If you're planning to build an educational, healthcare, assembly, retail, commercial or special use building, take a look at the world of cost-effective, innovative modular possibilities.
Permanent modular buildings, in which sections or "modules" of the structure are manufactured off-site in a controlled factory environment, can cut construction costs by 20 to 50 percent. They can also be completed in half the time it takes to construct conventional stick-built buildings, and time is also money.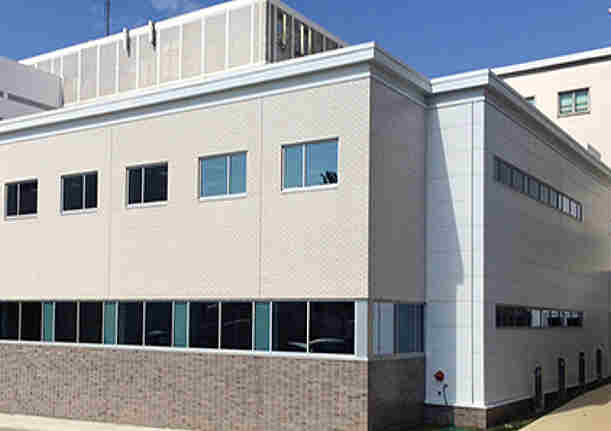 They are custom-designed with structural systems and finishing materials equivalent to their site-built counterparts, but can be constructed more efficiently off-site.  As much as 90% of the construction takes place in the factory, including all mechanical, electrical, and plumbing, fixtures and interior finishes.
Once the modules arrive on site, they are fastened together and exterior systems, like cladding and roofing, are completed, along with internal spaces such as stairwells, elevator shafts and lobbies. When well-designed and constructed, the modularity disappears, and they become virtually indistinguishable from stick-built buildings.
If you're concerned about the durability and longevity, the industry trade group Modular Building Institute estimates that permanent modular buildings have a lifespan of at least 60 years. Temporary, or relocatable, modular buildings (not affixed to real estate) have a design life of about 40 years.
Permanent Modular Building Innovation
Let's take a look at a few of the recent Awards of Distinction for modular buildings to give you an idea of the designs and technologies that are available in the industry to accommodate your needs.
Commercial Housing 
The Domain Apartments are the largest modular project built on the West Coast. The project involved the construction of five, four-story residential buildings totaling 485 modules over 450,000 square feet. The use of modular construction brought the project to market much faster, enabling the developer to almost fully lease the entire project in less than a year from final completion. This was the Best of Show winner for permanent modular buildings.
Office
An award-winning multi-story office building addition was designed and built by Modular Genius for the Department of Veterans Affairs in Washington, DC. The 14,500 square foot, two-story structure consisted of 24 modules. Modular construction resolved several project challenges, such as the need for precise installation in tight quarters, minimal disruption of the adjoining hospital, and optimal energy efficiency.
Education
Designed to match the aesthetics of an accompanying site-built building, the 25,767 square foot Lexington Elementary School project incorporates expansive glass fascia, wood textures, and clean lines. Taking just 259 days to complete, the technical innovations included the use of sound-deadening materials and a design that is able to withstand large-scale earthquakes.
Retail / Hospitality
Another winner was the Greyhound Bus Terminal in Seattle, WA. High traffic from users required special attention to the use of heavy duty and high-impact materials, 10-foot interior ceilings, and a wide-range of environmentally friendly, energy-saving features, including the latest in moisture and air-infiltration building wraps. The 2,977 square foot structure was completed in 137 days.
No matter what type of building you have in mind, modular construction can be the ideal solution due to its ability to speed up construction time, save money and deliver more opportunities for sustainability.